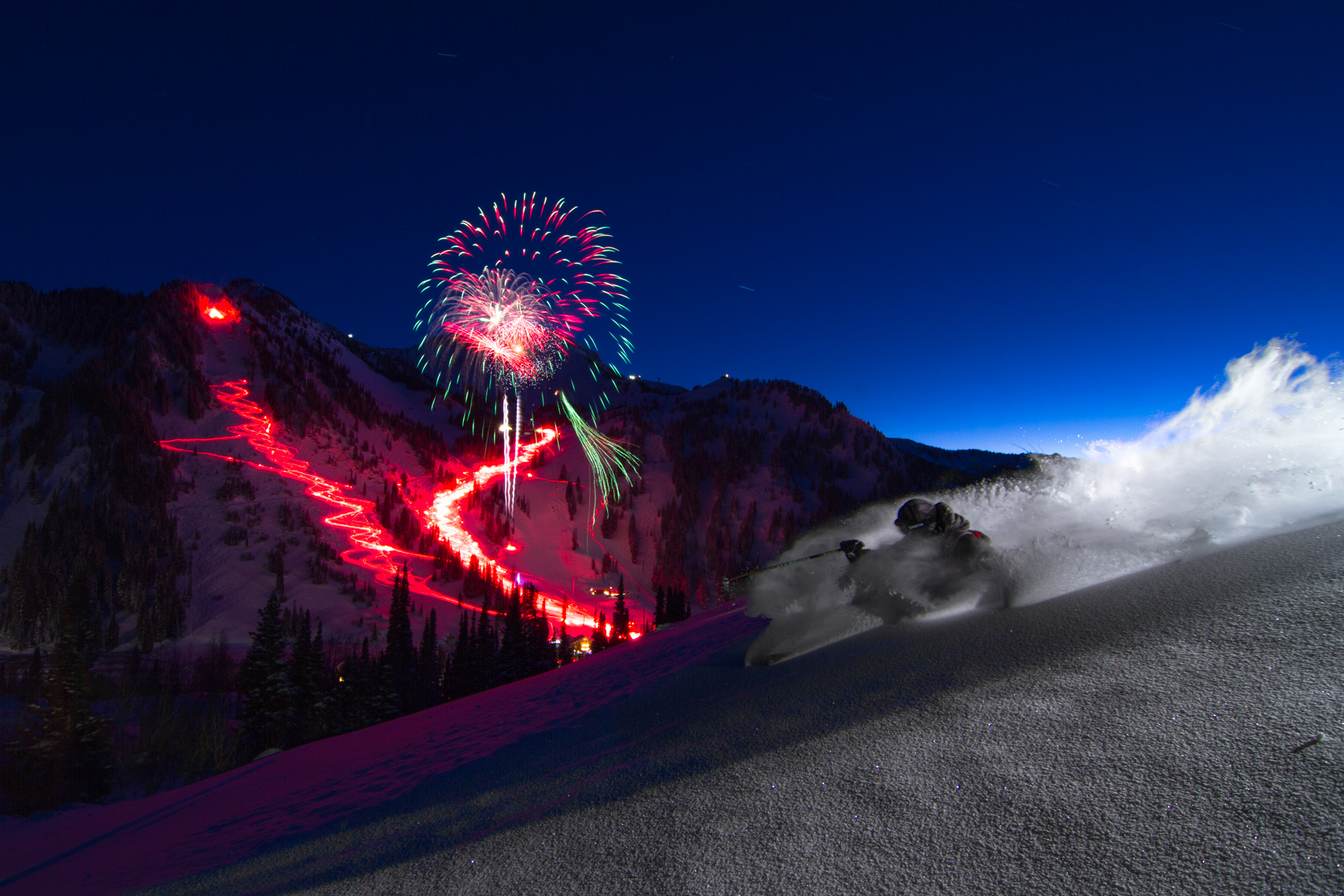 New Year's Eve is a great night in Alta. The usual festivities are enhanced by Alta's famous torchlight parade. What better way to celebrate the new year than by skiing underneath the glow of fireworks and torchlight? I had seen many long-exposure style photos of the torchlight parade itself, but I wanted to try a shot I hadn't seen, and get a skier in the foreground. Mr. Willie Nelson, after hearing my idea, was immediately down to try to get the shot that I had in mind (despite not having climbing skins that day, and having to boot through waist deep snow). After we found an untracked patch of snow across the road from Alta, Willie laid down a smooth turn while my flashes illuminated him. Willie nailed the shot on the first try, so all we had to do was sit back, enjoy a few beers, and watch the fireworks. I like this show because it has a surreal feel to it. Also, it was one of the rare times that a photo turns out the way that I had pictured it in my mind.
This photo was taken a few days before Christmas, on the Baldy Shoulder at Alta. The Shoulder, as it's collectively known, gets great light, great snow, and easy access from the top of WildCat lift. This combination of factors makes it a terrific place to shoot powder photos. This shot is of Ryan Vitale, who actually took a tomahawk-style crash immediately after I snapped this frame. Luckily this frame was a keeper, and turned out to be one of my favorite shots of the year.
Luke Perin, although old and ill-tempered, can still throw down some mean tricks with some serious style. This particular morning, our crew (Luke and Cody Perin, Crazy Karl, Hennie VJ, and myself) had the Tree-Air jump all to ourselves. After giving the lip a small pat-down, Hennie set up his angle for video and I set up for some stills. Hit after hit, Luke showed us all that he still has a few years left in him with some flawless trickery. Dare I say best switch 540 in the Canyon?
No friends on a pow day, right?! Well, not always… Contrary to popular belief, ripping endless amounts of new snow is only enhanced by the presence of a posse of buddies. This photo features a few of my favorite people all shredding some of Alta's finest pow together. The party wave vibe was strong that day, and I think that this photo captures it pretty well. Check out Willie and Hayden in the middle. I mean, how often does your buddy help you out to get a blower faceshot? (L to R- Faith Colonna, Willie Nelson, Hayden Price, Noah Wetzel).
This photo was from an early season storm, in mid-December. It was my first time shooting deep pow of the year, and powder panic was in full effect in Little Cottonwood. Two feet of fresh had fallen overnight, the road up the canyon was closed starting at six a.m., and frothing skiers were lined up in their cars. I was mildly panicking, thinking that I wasn't going to be able to make my 8:15 meeting time with Rachael Burks to shoot some deep powder photos. After an hour and a half of nervously waiting, the road opened, then promptly closed again. Dang! I was really hoping I hadn't blown it by not making up before the road closed. A tense hour later, and the road finally opened. Rachael and I met up, and had an all-time morning blasting through some insanely light snow. The moral? Take a few breaths, chill, and it will all work out. There's plenty of snow for us all in LCC.